Robert Nighthawk music
Robert Nighthawk music CD available from Document Records. Document Records have a new music CD by Robert Nighthawk. The link will take you through to a page with a more comprehensive description of this particular Robert Nighthawk music CD title: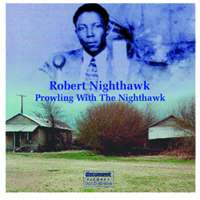 Robert Nighthawk. Prowling With The Nighthawk - DOCD-32-20-6. The tracks on this Document CD range from 1937 to 1952 and Nighthawk is accompanied by such blues luminaries as Sonny Boy Williamson, Joe Williams and Roosevelt Sykes. This complilation of recordings by Robert Nighthawk is not available anywhere else and shows us that he was one of the premier blues slide guitarists. This release comes with informative booklet notes written by Jeff Harris and full discographical details.
Click here for further information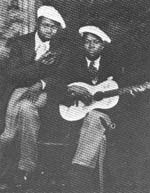 A very brief Robert Nighthawk Biog Robert Nighthawk was one of the blues premier slide guitarists playing with a subtle elegance and a fluid, crystal clear style that was instantly recognizable. Nighthawk influenced a generation of artists including Muddy Waters, B.B. King, Earl Hooker and Elmore James. Nighthawk was born Robert Lee McCollum in Helena, Arkansas on November 30th, 1909 and raised in a farming community.

Nighthawk came from a musical family as he relates in a 1964 interview: "Well all my people played music. Mother and Dad and sister and brother and all. My brother played guitar. My brother helped me in all kinds of ways. (My family)...mostly played dances, parties, picnics and all that."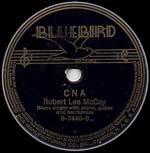 In many ways Nighthawk went onto become the archetype of the classic bluesman, spending his entire adult life rambling all over the South with frequent trips to the North playing a never ending string of one-nighters punctuated by sporadic recording dates.


Nighthawks recording dates brought him only limited success but he remained popular in the South his entire life. It seems that every blues musician of consequence who emerged from the Delta from the 30`s through to the 60`s recalls running across Nighthawk.

F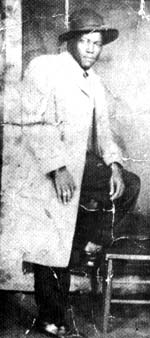 or all his visibility Nighthawk remains a shadowy figure; for one he never stayed in Chicago long enough to establish himself, he was interviewed only briefly and unlike many artists didn`t appreciably benefit from the blues boom of the 1960`s. Above all it was his ceaseless wandering that likely stopped him from achieving greater fame: "Well, that`s about all I been doin` all my life. I was down in Florida about 3 years and back up in Louisiana, Mississippi and Alabama, Georgia, Texas, Arkansas, Kentucky, Indiana, Missouri and Iowa, New York and some other places."

As well as playing guitar (taught by Houston Stackhouse in 1931), he played in the orchestra of the Dan Hildrege Show, ran with singer Laura Dukes and even fronted a jug band in Memphis. He also met and played with musicians such as Sleepy John Estes, Yank Rachell, Sonny Boy Williamson, Big Joe Williams, Hammie Nixon, Big Bill Broonzy, Memphis Slim and John Lee Hooker.

Nighthawk continued to play and record into the 1960`s. His final recording session was fittingly with Stackhouse, performing the songs of Tommy Johnson one final time. Nighthawk died less than 2 months after these recordings on Nov. 5th, 1967.

Other sites of interest:
More information on Robert Nighthawk Bricks In My Pillow: The Robert Nighthawk Story
Brief biog By: Greg Johnson. Article from the November 2000 BluesNotes
lyrics to 2 songs: Prison Bound and Sweet Black Angel