"Welcome to Document Records "
We wish you Compliments of the Season and hope to see you all on Facebook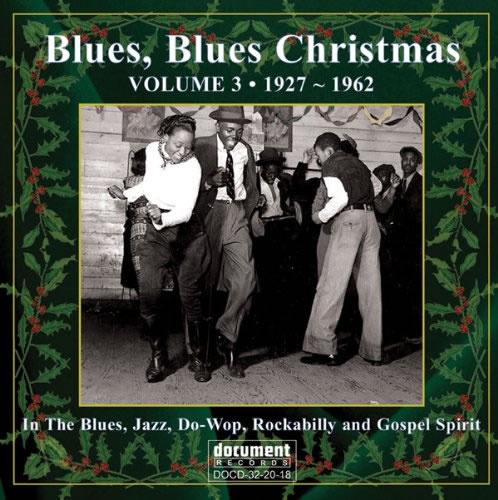 We are excited to present our latest release. Blues, Blues, Christmas Vol. 3: 1927 – 1962.
It's a Double CD with 40 cracking tracks from the likes of Ella Fitzgerald, Leadbelly, Cordell Jackson, Freddy King and more. It's cram packed with festive songs from the Blues, Country, Gospel, Do-wop, Rockabilly world.
It also contains a 20 page colour booklet with informative notes written by Jeff Harris (host of Big Road Blues) and a detailed discography. Click the CD image for full details.
To get you in festive mood we've made a video for one of the tracks "Christmas Choo Choo Train" byCoy McDaniel & Shorty Warren and we hope you will enjoy it !

If you missed them in previous years why not treat yourself to our other festive volumes. The Christmas CDs are all "doubles" containing extensive notes by Jeff Harris with detailed discographies
You can buy them individually or in our budget bundle

All the Blues Blues Christmas CDs are doubles so that's over 100 festive tracks at the budget price of £21.00 plus tax if applicable and shipping.
Christmas Podcast
In addition Jeff Harris has also provided a Blues, Blues Christmas Podcast for us all to enjoy. This 2 hour broadcast contains some of the finest Christmas Blues that you can hear.
To compliment your Christmas listening we are proud to present from the Edison Vaults
Mr Edison's Christmas

The songs and monologues featured here are taken from the original Edison test pressings, and capture the essence of the Christmas spirit as it was in the opening two decades of the 20th Century.
The CD contains artist's biographies, historical observations and a full discography.
Edison Christmas Podcast
We have worked in conjunction with The American Sound Archives to bring the Edison Series to you and we have pleasure in providing a wonderful and nostalgic Podcast to accompany the CD.
New releases on the 8000 series
Narmour & Smith Volume 2.
As we said in our October Newsletter We are delighted to announce that we have been collaborating with renowned fiddle player Harry Bolick to bring you the complete recorded works of Narmour and Smith. This is the first time that all their recordings have been collected together.
Each CD contains the following info: William Thomas Narmour, fiddle. Shellie Walton Smith, guitar. Old Timey, String Band, Mississippi country fiddle. Informative booklet notes by Harry Bolick. Detailed discography.
Abridged notes "Polk Brockman of Okeh records discovered Narmour and Smith at the Winona fiddle contest organized by Doc Bailey in 1927. Their recording, "Carroll County Blues," with "Charleston #1" as a B-side, was "one of the biggest selling records of 1929," according to Talking Machine World, a recording industry trade paper. "Someone I Love" was nearly as well received. Their popularity continued even as the recording industry began to suffer during the Depression. Along with the Ray Brothers, they were the last of the Mississippi fiddle bands to record in that period."
If you are unfamiliar with the musicianship of Narmour and Smith, click the image to see our You Tube Film: Texas Breakdown

New Releases on Vinyl.
Document Reissue Volume 3. Third Man Records The third instalment of our highly-anticipated Document Records reissue series. You can buy them singly or as a bundle

Bundle includes:
Charley Patton. The Complete Recorded Works in Chronological Order Volume 3 on black, 180-gram vinyl
Blind Willie McTell. The Complete Recorded Works in Chronological Order Volume 3 on black, 180-gram vinyl
The Mississippi Sheiks: The Complete Recorded Works in Chronological Order Volume 3 on black, 180-gram vinyl
Head, Hands & Feet - A Book of One Man Bands
We've also got a number of copies of Dave Harris's remarkable history and account of the world of One Man Bands. As one commentator states "It's an excellent book. I'd recommend it to anyone with an interest in music, busking, performing arts, music history, percussion, or the unique and quirky things in the world.
Click on the image for further details or see the Authors You Tube video
New Releases:
---
Blues Calendar
We are happy to present the 2014 Blues Images Calendar. It Includes a 24 track FREE CD and never-before-seen-photos of Henry Thomas & Furry Lewis!
2014 Calendar - with Free CD
Blues Posters
Gospel Sounds for the Holidays.
We present our finest selection of Vintage Gospel Sounds, Fiery Sermons and Early Black Christian Music. A treasure trove from the past which includes such wonderful snippets such as Christmas Day Services in Harlem at vintage prices. Why not add some of these to your stocking at.
One of the most famous Preachers and Reverend Singers was the Rev. J. M Gates. We have seven volumes of his recordings, all of which are on special offer.
The Reverend J.M. Gates (July 14, 1884 – August 18, 1945)
Of all the black preachers who were unexpectedly elevated to recording star status in the 1920s, the most popular was the Rev J M Gates. Born in 1884 the good reverend was the pastor of Mount Calvary Baptist Church in Rock Dale Park, Atlanta from 1914 until his death around 1941.
At just £2.49 (plus tax if applicable and shipping) you can't afford to miss these Gospel goodies.

Last Dates for Christmas Postings
Airmail
Latest recommended posting dates for Airmail services are between 29 November and 14 December, depending on the destination.
Friday 29 November is the latest recommended date for any operational British Forces Post Office (BFPO);
Wednesday 4 December for Asia, the Far East (including Japan) and New Zealand;
Thursday 5 December for Australia;
Friday 6 December for Africa, Caribbean, Central and South America, Middle East;
Monday 9 December for Cyprus and Eastern Europe;
Tuesday 10 December for Canada, France, Greece and Poland;
Friday 13 December for USA and airmail to static BFPOs;
Saturday 14 December for Western Europe (excluding France, Greece and Poland).
UK post
Wednesday 18 December is the latest recommended date for 2nd Class mail,
Friday 20 December for 1st Class and
Monday 23 December for Royal Mail Special Delivery Guaranteed.
Full details of Royal Mail's services can be found at www.royalmail.com. A full list of recommended last posting dates can be seen at www.royalmail.com/greetings
Join in with the fun, facts and news. Plus, win free Document CDs in our quizzes at the
Document Records Facebook page.
DOCUMENT DOWNLOADS

Individual tracks, or entire albums, from the Document Records catalogue can be downloaded from the comfort of your home or office from Emusic. Click here
Document Educational



Special rates for all Document products are available for Schools, Colleges, Universities, Museums and any other places of education or research. Please email your enquiries to sales@document-records.com

For less than the price of most CDs on the market Document presents The Catalogue.
One hundred and fifty pages, many printed in full colour.
Over eight hundred and eighty titles.
Over twenty thousand tracks.
Over two thousand three hundred main artists indexed alphabetically.
Click here for more details for the catalogue that's a collectors item itself!.
Waiting in excited anticipation for the postman, Fanny knows just exactly what she's going to get and when she's going to get it...
...now that she has her free subscription to the Document Newsletter..

If you want to be one of the first to be told about our Great New Releases, Special Offers, News Items, Features and more, just take a few seconds to register your FREE subscription and we'll keep you posted.. Simply enter your Email address to sign up.
DOCUMENT SECURITY

Credit and Debit Card Payments:
We have decided that it is safer all round that we no longer process credit card and debit card payments via our own web site. At the check out you will now be offered the choice of PayPal or cheque. If you wish to pay by credit card or debit card choose the PayPal option.
---