"WELCOME TO DOCUMENT RECORDS"
Established 1985
Recipient of Keeping the Blues Alive Award 2018
Document Record's Mission has been to preserve and make permanently available the majority of Afro American recordings made from 1893 through to the mid-20th century. We also specialise Old-Time Country ,early World Music and vintage Christmas, Halloween and seasonal recordings.

If you want vintage Blues, Gospel, Jazz, Jug Bands, Sermons and Swing you are in the right place 25,000 recordings and growing.

From here you can license our music, become a Document Records Affiliate, enquire about CD and Video replication and contact our Copyright Research specialists.
NEW RELEASE
(Stir-up Sunday to New Year)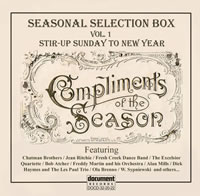 A winter festival is enshrined in almost all cultures that have a winter. It is no surprise that these festivals generally take place in December.
So much could be written about winter festivals and the development of Christmas that it would warrant a book so here we have to content ourselves with the songs that give us an aural hint at the traditions we have carried with us from the dawn of time and that have spread around the world. We start with November, Stir Up Sunday and finish with the strains of Auld Lang Syne as the old year passes away.

Featuring tracks by Chatman Brothers (Lonnie and Sam), Jean Ritchie, Julie London, Fresh Creek Dance Band, Bob Atcher & The Dinning Sisters. Lloyd Shakespeare's New Piccadilly Band, Dick Haymes & the Les Paul Trio and many more. The album can be bought both as CD or download.
FROM £7.19 | $8.99 | €7,99
If you want to buy our CDs and Downloads you can find them all in the Document Record Store at this link
THE NEW
DOCUMENT RECORDS
CHRISTMAS STORE
IS NOW OPEN!
Please do let us know if you encounter any problems. We have spent quite a long time testing it but there are bound to be glitches.
Contact Information
Document Records Ltd.
Unit 2c Creek Road. Bladnoch Bridge.
Bladnoch.
Newton Stewart.
DG8 9AB. UK.
Tel: 01988 403200.
Fax: 01988 402333
Registered Office
12 St. John Street,
Whithorn,
Newton Stewart
DG8 8PE
Company Registration No. SC206327
VAT No. 751 1550 57